This page may contain affiliate links, in which I earn a small commission at no extra cost to you if you purchase from them. Click here to read my Privacy Policy.
Australia is a bloody great country.
However, there are notable things that are missing from everyday 'murican lifestyles. Whether it's the $1 menu at Macca's or soft, fresh bagels, there are quite a few [unhealthy] things that you won't find in Australia.
Here are 30 things you can't find in Australia as an American expat.
Disclaimer: This listicle is just for fun and good humour (in other words, if you take this too seriously, then BYE, FELICIA). By no means am I criticising Australia (I love this country) – I just think it's funny to draw comparisons when you live in a new part of the world.
1. Quality Mexican food
California borders Mexico, so we have the best Mexican food in the nation (this is a fact). Unfortunately, quality Mexican food just doesn't exist in Australia (it's not their fault – they're on the other side of the world).
In regards to Americanised Mexican food (i.e. Del Taco, Chipotle), none of that is here, either. Duh.
The #1 thing I miss in Australia is decent Mexican food.
Here are some options, though:
Taco Bell (locations can be found here)
2. Bagels!
This is huge for me, since I fawn over bagel sandwiches – especially bagels smothered in cream cheese, smoked salmon, and capers.
Woolworths (our local supermarket) carries a whopping two brands of bagels (and two flavours: plain or sesame seeds), and I'm sad to report that they tasted like rubber, so I tossed them.
There are some pretty decent bagel shops, however: Bagel Co. Australia (Surry Hills and Rose Bay), Lox in a Box (Bondi), and some options listed on Broadsheet.
3. Varieties of popcorn
We're a bit spoiled in the states with hundreds of popcorn flavours to choose from. Heck, there are stores devoted to popcorn.
In the age of this global pandemic, microwave popcorn with your late-night movies is essential… but the only flavours I can find in Australia are butter, sweet & salty (they don't even call it kettlecorn here?), and extra butter.
And don't expect Orville Redenbacher-type quality, HA. The extra butter cheapo brand at Aldi for $0.80 AUD ended up faring pretty well, surprisingly.
4. $1 menu at Macca's
Macca's = McDonald's. Isn't that easier to say? Aussies simplify everything.
Sadly, my fave nugget-toting restaurant doesn't seem to have a readily accessible "$1 menu." There's apparently a "loose change menu" here, but it's never on the digital ordering screens. Stealthy! Thus, poor people like me end up paying $10 AUD for nuggets (always worth it).
5. Crunchy Flamin' Hot Cheetos
In middle school, these were all the rage. I was never into them much… until I started traveling more. What, do my tastebuds just worsen as the years go by?
You can get puffs here, but not CRUNCHY flamin' hot Cheetos (same goes with the cheese ones). If you're desperate, you can order them off USA Foods for $8 AUD a bag (!!), or find them even more overpriced in convenience stores that specialise in international brands.
6. Light blue Gatorade (Glacier Freeze)
This is the best Gatorade flavour out there, and they only carry the Cool Blue flavour. Heartbreaking!
7. Trader Joe's & Whole Foods Market
I'm definitely not a health freak by any means (hello, I still eat instant noodles), but I loved shopping at TJ's and Whole Food's growing up. It makes you feel instantly healthier, even though everything is about twice the price of a supermarket (at least TJ's is somewhat reasonable).
There are some equivalents (especially in Sydney), but nothing really compares to these two. Ain't gonna find Pirate's Booty here, that's for sure!
8. Panda Express
My arteries probably thank me for this one, but the MSG-saturated Americanised Chinese food chain is just so damn good. Since the population of Sydney is approximately 28% Asian, there's really no need to have "fake" Chinese food here.
9. Chocolate-covered pretzels
These are my actual fave snacks ever, and I never find them anywhere. I did luck out once at The Reject Store (and they were Flipz brand!), but they're rarely around.
10. Cookie butter & Nutter Butters
Without Trader Joe's, there is no cookie butter. Simple. Again, my body probably thanks me for this.
Also, there are no Nutter Butters here! Gasp. I discovered this when I found the perfect recipe for Star Wars Day to make Nutter Butter porgs… but then had to abandon the idea when I couldn't find them here.
11. Cereal brands & varieties
Okay, we get it. America is notorious for having 10,000 flavours and brands of every food ever invented… so when we move to another country, we're a bit shocked when we can't find our distinct favourites.
Cereal is also heaps expensive here (again, averaging about $8 AUD a box). You won't find Cinnamon Toast Crunch, Apple Jacks, Cookie Crisp, Frosted Mini-Wheats, etc. Basically, anything with 40% or more sugar, you won't find here… because unlike America, this country isn't trying to contribute to obesity and diabetes rates.
However, I have seen familiar ones like Crispix and Cheerios – the plain ones I used to hate when I was a kid. Haha!
12. Dill pickles
American pickles are not the same as Australian pickles. Don't believe me? Try some for yourself the next time you're here…
13. Cinnabon
Every American knows the mouth-wateringly amazing scent of Cinnabon, which are conveniently located in just about every mall. But again, maybe it's best that Australia doesn't have this chain, or else I'd be turning into a large bun myself.
BONUS: For a classic cinnamon roll recipe to try at home, check out my friend Courtney's article here!
14. Sour Patch Watermelons
These sweets are my downfall, but they don't exist in Australia! The sorrow. Sour Patch Kids are readily available, but not watermelons.
UPDATE: I did find these at our local Woolies, but they taste a little different, and they're in the shapes of kids, not the actual watermelons. Good enough!
15. Pillsbury Croissants
Oh my word, Australia is definitely missing out on these. It's like tearing apart a soft cloud of heaven in your mouth. They're commonly known for creating pigs in a blanket, which are ideal hors d'oeuvres at any party.
16. Fritos honey BBQ flavour twists
There's really no Fritos-anything here (again, American brand), so sadly, this means that these flavour-packed guys don't exist anywhere on shelves, either.
17. Root beer
This entire list is the root cause of cavities, high cholesterol, and diabetes – but omg, root beer is a sugar haven of goodness, and it's hard to find here. You might luck out and fit it in convenience stores which carry international goods, but you'll have to be really searching hard.
Fun fact: Soft drink floats ("soda" is "soft drinks" here) are called "spiders" in Australia and New Zealand. They don't have nearly as much sugar, obviously.
18. Tapatio hot sauce
Again, spoiled kid who grew up eating authentic carne asada… smothered in Tapatio hot sauce. The fact that this isn't sold in Australia is practically a crime.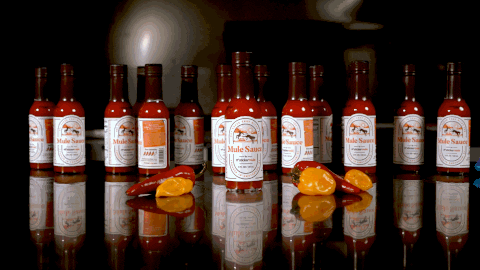 19. Lunchables
I grew up eating these in grade school for lunch, and it's sad to know that as a 30-yr. old adult, I can't readily buy them in grocery stores in Australia. LOL.
20. Eggo Waffles
I was pretty devastated to discover that frozen waffles aren't a big thing here (or waffles in general). My boyfriend thinks that waffle sandwiches (like Bruxie) sound deplorable, but I couldn't disagree with him more.
21. Frozen burritos
Again, since Australia is pretty cut off from great Mexican food, this means it's pretty rare to even find frozen burritos (usually my go-to hiking meal back in my hood, lol). Instead of frozen burritos, there are endless racks of frozen meat pies… not quite the same.
22. Hot Pockets
For the terrible cooks (me), Hot Pockets are another high-calorie, 2-minute meal necessity. I was a bit sad that I couldn't find these here in the grocery aisles, as well.
23. Jimmy Dean sausage, egg, and cheese biscuit sandwiches
I'm very sad about this one. Jimmy Dean breakfast sandwiches are even better than Macca's sausage & egg mcmuffins, so it's heartbreaking to know that I can't find these boys in the frozen foods aisle.
24. Corndogs
My boyfriend was appalled that I was chowing these down in Japan. They're not a thing in Australia, but they're forever one of my fave foods. So freaking tasty.
25. Goldfish crackers
This is like the quintessential snack for teething babies and kids growing up! Very sad that I can't find Goldfish crackers here (along with their hundreds of varieties and styles, like the rainbow ones).
26. Triscuits & Wheat Thins
I'm grouping these two since I used to pack BOTH for lunch throughout middle school, high school, uni, work… sigh. Can't keep up the tradition here, I guess.
However, Australia does have Shapes, which are a pretty decent trade-off.
27. Graham crackers
What, no graham crackers?! How do Aussies make s'mores, right?!
Well, remember that open-air fires (i.e. bonfires) are pretty much illegal in every region of Australia. Graham crackers literally do not exist here.
Arnott's Marie biscuits are apparently the closest substitute (but I refuse to try those, because I know they're not actual graham crackers).
28. Crispy bacon
This one is controversial, since Aussies will tell us that their bacon IS the real bacon. Um, Australian bacon is ham. WHACK, right?
If you're expecting crispy bacon with your eggs and toast here, you'll be sorely mistaken. I usually opt for sausage to prevent disappointment, lulz.
29. Cinema snacks: Junior Mints, Mike n' Ike's, Swedish Fish
Once again, we wonder why America has the highest obesity rate in the world. All these tasty candies (or "lollies," as known in Australia), are actually not available in Australia.
I'm most saddened by the Junior Mints loss, though. On the other hand, my enamel probably thanks me for not being tempted by all this sugar.
30. Snyders of Hanover pretzel bites & soft pretzels
Snyders has the best pretzels, but they sadly aren't marketed here. My faves are the honey mustard pretzel bites – such a great snack when you're binging something on TV and being completely unproductive.
Sidenote: Don't ever accidentally spill a bag of these in your car, or you'll be vacuuming forever. Shoutout to Victoria and Kristina for imprinting this snack in my memory forever. #VegasMemories
Also, soft pretzels are nowhere to be found, and this is an atrocity. Below is what my arms looked like while wandering Germany:
Summary
Overall, expats in Australia have a lot to be thankful for. While we may not have the luxury of 125 popcorn flavours and frozen food varieties coming out of our ears, at least we have different versions of these foods (and probably a bit healthier).
For my fellow American expats living here, you can always order [pricey] American snacks and drinks online from USA Foods, Joys Delights, and check out this blog as well.
However, I encourage you to embrace the beauty of this country and stop focusing on the fact that it doesn't have XYZ – after all, this article is just for jokes. Every country is different (and wonderful) in its own right!
So yeah, Australia, I'll forgive you for not having decent Mexican food, since you also happen to have the best beaches and wildlife in the entire world. *mic drop*
Shoutout to Nora for contributing to a good amount of this list!